Signals Defense carries and installs a wide range of Decorative and Solar Control Films capable of meeting various specifications. 
A decorative film doesn't just transform the look of windows, partitions and other smooth glass surfaces; it also changes the way you think about designing and utilizing space. An unexpected addition to areas both intimate and public, decorative film inspires fresh ideas for enhancing interiors, creating privacy, filtering light and more. 
At Signals Defense, our decorative film offerings are thoughtfully curated to fuel inspiration and bring to life any design vision, from historic to futuristic. They're attractive and functional, offering varying degrees of transparency and coverage to help you solve challenges — beautifully. 
Different Types of Window Films
Decorative films are among the most in-demand types of window films, and for a good reason. They come in different styles and designs, making them useful in various applications, whether glass doors, interior walls or exterior windows. 
If you are upgrading your home or workplace using decorative window films, these are the top types to choose from:  
Frosted Glass Film 
Frosted glass films are an excellent choice for those who want a window privacy film that will still allow natural light to enter rooms. They can be designed to partially or fully conceal spaces while complementing your home or office interior design styles with their distinct patterns and gradients.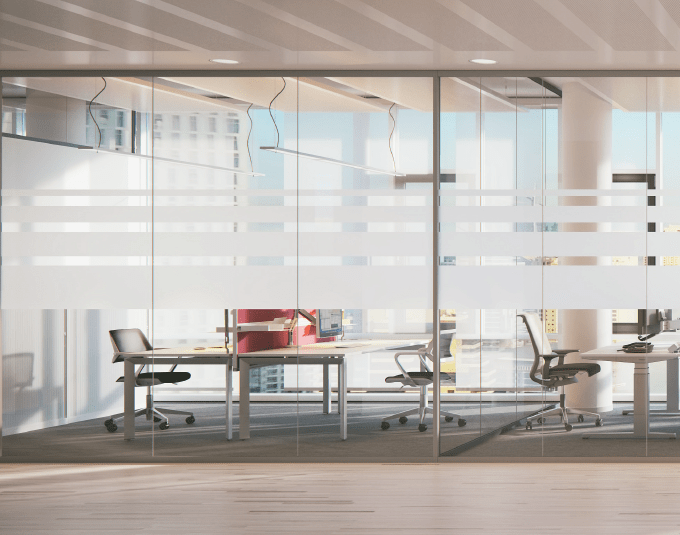 Architectural Film 
Much like frosted glass films, an architectural film can be used for both decor and functionality. However, the key difference is that the latter is available in more patterns, gradients and finishes. This feature makes this type of adhesive window film a popular choice in commercial spaces. 
Textured and Gradient Decorative Window Film 
Textured and gradient decorative films are designed primarily for aesthetic purposes, allowing various design possibilities. As their name suggests, a textured decorative window film features unique textures on its surface, while a gradient window film carries different colors at your desired gradient opacity.  
Perforated Vinyl Film 
Commonly used in commercial applications, a perforated vinyl film offers creative possibilities for marketing and advertising. For example, it can add eye-catching graphics to glass doors and windows, which can help promote businesses or advertise deals on storefront windows. 
Patterned Decorative Window Film 
Patterned decorative films are often used in commercial applications to achieve fresh and unique moods, but this does not mean they're limited to offices and other commercial facilities. The sophisticated accent that geometric patterns, stripes and etched sparkles can create, works well in any space. 
Specialty Decorative Window Film 
Specialty decorative window films are indeed special because they are available in unique patterns and colors. They are often translucent, carrying vibrant hues like yellow, red, green and blue tints. However, note that they are often made for aesthetic purposes, so they may not help much when it comes to offering privacy.  
Custom Decorative Film 
A custom glass window film does what its name suggests — cater to specific requirements. It can be used to enhance interior designs and promote deals, but it can also be installed to serve as signage or bear announcements. Lastly, custom decorative films can also accommodate large and small-scale projects effortlessly. 
Benefits of Decorative Window Films
If you're still on the fence about upgrading your home or workplace with decorative window films, here are just some of the many benefits you can get out of them: 
Added Privacy 
For the longest time, property owners have had to choose between privacy and aesthetics. But with decorative films, you get a privacy window film that works well without closing off your space or blocking natural light.  
Protection From Damaging UV Rays
If you want to continue enjoying the view from your expansive windows but are concerned about UV rays entering your home, you can protect yourself and your valuables from the sun's harmful rays. Window film filters can block up to 99% of harmful ultraviolet rays, minimizing your risks of developing skin damage while keeping your flooring and furnishings from fading. 
Increased Comfort and Maximized Energy Savings 
Glass window films also do an excellent job of repelling heat during summer and conserving it throughout the colder months. This naturally results in your increased comfort and your property's lower energy costs. 
Enhanced Appearance 
As mentioned above, decorative films come in various colors, patterns and textures, allowing them to breathe new life into glass surfaces. They can be used to pique buyers' interests, make announcements or even make your workplace more professional-looking to both employees and visitors. 
Easy Application and Removal
The best part is that decorative window films are easy to apply and remove. If you wish to upgrade the look and feel of your space in the future, you won't have to disrupt your employee's work hours or put your daily activities on hold. The film can be peeled off quickly without leaving any sticky residue behind. 
The Signals Defense Difference
The sophisticated styles in our pattern decorative film collection are designed to bring both originality and privacy to commercial spaces. Create varying moods and coverage levels by skilfully shifting just three elements: matte areas, translucent areas and surface finish. 
A true complement to creativity, our range of patterns is versatile enough to harmonize with spaces from quirky to corporate, cheerful to thoughtful and spacious to intimate. You'll find an inspired accent for your project in our broad range of sophisticated options, including choices such as glamorous etched sparkle, serene rice paper and witty barcode stripes. 
Signals Defense has the ability to enhance existing properties or new projects. Decorative films are durable, yet also removable. As your building shielding expert, we have access to thousands of variations as well as custom printing to make your dreams a reality. Signals Defense is a provider of a wide range of decorative film products including Llumar, 3M and Solyx. 
OFFICE LOCATION
3 Easter Court
Suite L
Owings Mills, MD. 21117