WINDOW TREATMENTS

COMMERCIAL WINDOW TREATMENTS 
Signals Defense is not only a leader in RF/IR technology but also provides and installs commercial and government window solutions including window blinds and roller shades with manual and motorized options.  Today's window treatments are specified in new and existing commercial and government space for privacy and security purposes, and offering a wider variety of materials, colors, and styles.  We source hundreds of products from 12 leading manufacturers including Draper, Springs Window Fashions, Hunter Douglas, and Mecho.

Roller Shades
Modern roller shades come in a wide variety of levels of opacity, fabrics, colors, and designs, and can also be specially crafted to exactly meet your project needs:
Solar & Sun Shades: Solar and sun shades are made of translucent fabrics that are designed to reduce heat and glare. The translucence allows for unobstructed views but, particularly in the hot summer sun of mid-Atlantic and Southern states, dramatically reduces heat, glare, and sun damage to interior furniture and carpeting.
Blackout Shades: Blackout shades are made of an opaque material that does not allow light to pass through the shade. They are useful to ease viewing of multimedia presentations or LCD screens, or simply to minimize outdoor light in peak sunlight hours.
Decorative Shades: Decorative shades can really add to the design of a room, whether in an office or at home. Available in many different fabrics, colors, and levels of opacity, decorative shades can blend form and function for a perfect finishing touch to a room.
Printed Shades: Printed shades add logos, company names, or relevant designs to the outside or inside of your windows. The quality and types of printed images available are virtually unlimited – whatever you and your design team can think up, we can print. Again, printed shades can add that perfect final touch to a well-designed room.
Motorized or Hand Held: All the above features may be included in both motorized versions and hand-controlled. Quiet motors, wireless features, and integration into building smart HVAC control systems are additional features that are available to create the perfect climate and lighting control system for your building.  Automation settings adds security and an effective privacy solution for your office space.
COMMERCIAL BLINDS – Traditional commercial blinds include horizontal blinds, aluminum blinds, and faux wood blinds.
Horizontal Blinds are one of the most popular types of window coverings available. Blinds enhance your windows and complement your aesthetic, while adding light control. Materials used for horizontal blinds include textured vinyl, fabric, or embossed acrylic slats.  All materials are offered in a variety of colors and fabric.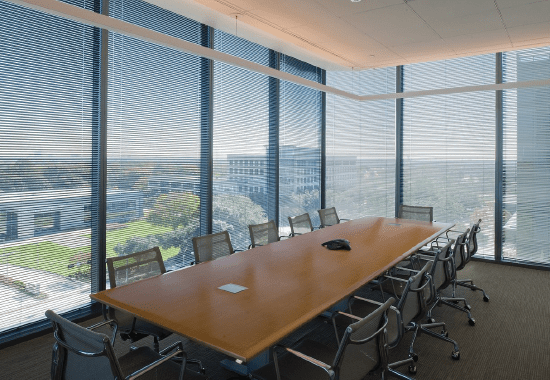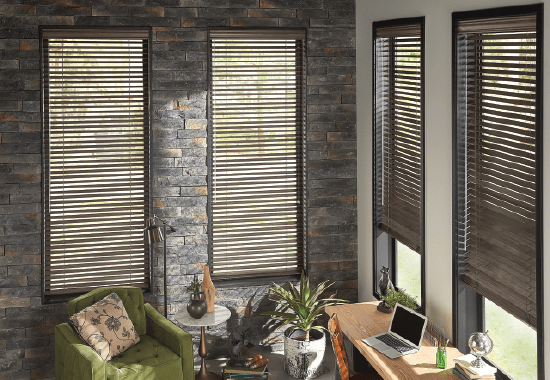 Orientation
Window blinds can be oriented horizontally or vertically.  Typically, vertical blinds are used for larger windows or sliding glass doors while horizontal blinds are installed on standard-sized windows. Vertical blinds collect less dirt and dust, and stack neatly to one side, allowing ease of use for doors.  Horizontal blinds are not blown apart by a sudden breeze of physical contact and provide a sleek, iconic look.

Materials
Window blinds are constructed from a variety of materials including wood, metal, plastic, and fabric.  Spring-tempered aluminum is popular due to its low cost, light blocking ability, and durability.  Wood and faux wood blinds can provide a classic look for the right room and add texture and elegance.

Sizes
Standard sizes include 0.5 inch to 2 inch tiltable slates.  Slats may be adjusted for precise light control at any time of the day.

Colors
Signals Defense is able to provide blinds in a large variety of colors, textures, and patterns.
Window blinds come in a variety of materials, colors, sizes, and types.  All blinds are customized per your specifications.
CUSTOM WINDOW TREATMENTS
Signals Defense offers a variety of unique custom window treatments.  If you are looking for a unique products for your commercial space including shutters and natural shades.  Signals Defense has unique solutions for healthcare and hospitality, education, office and conference room window treatments, hospitality and hotel, restaurants, and retail window stores.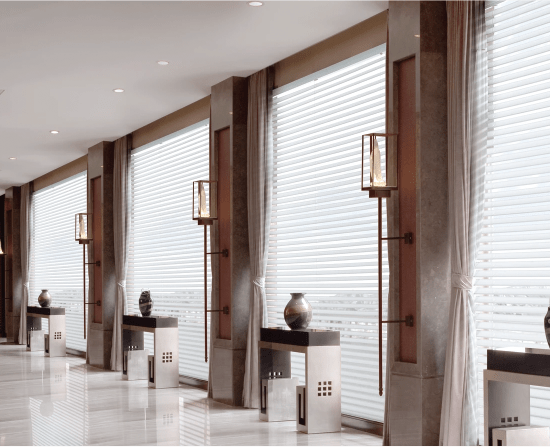 Get in Touch with the Experts
If you're considering changing how you control light in your space, contact Signals Defense today for a free consultation.  The brands we carry cover an enormous range of options, but if your space needs an entirely new solution, the pros at Signals Defense will put their vast experience and industry sources to work to find the right fit for you.  To get started, complete the form below.
READ OUR WINDOW TREATMENT BLOGS
OFFICE LOCATION
3 Easter Court
Suite L
Owings Mills, MD. 21117