GLASS AND POLYCARBONATE LAMINATES
PROTECT AGAINST ELECTRONIC EAVESDROPPING
Signals Defense glass and polycarbonate security solutions are used to mitigate against a myriad of electronic eavesdropping techniques, and ballistic and blast threats. Our custom solutions include full window layups to custom insert panels designed to maintain the integrity of the building's facade and protect the film from damage.
Signals Defense's patented SD2500 and SD1000 technology, can be embedded within the glazing system for the RF shielding while also protection from blast, ballistic, and forced entry.  Signals Defense can produce a variety of glass and polycarbonate (Makrolon®) laminates for your security and privacy concerns.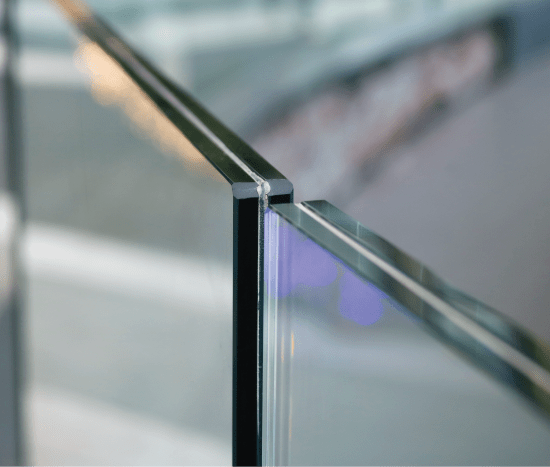 ELECTRONIC AND PHYSICAL SECURITY
Signals Defense, the leader in window film technology, offers customized glass laminate solutions to prevent your windows from becoming a point of vulnerability.
Blast/Ballistics glass laminates: Signals Defense provides commercial, military, and other governmental clients with a full range of Forced Entry Ballistic Rated (FEBR) glass and polycarbonate laminates.

 

Adding Signals Defense RF/IR attenuating window film is an added layer of electronic security.

 

Our ballistic rated glass is available to meet all UL752 and NIJ ratings, which indicate the ability to stop multiple shots from handguns, shotguns, or rifles, depending on your security needs. Ballistics glass is specifically designed to handle the extreme force applied in single or multiple projectiles. For any location that could possibly be a target, having at least one area protected by ballistics glass could be an actual lifesaver.
Containment glass laminates: Containment grade glass-clad polycarbonates (GCPs) are slightly different from ballistics glass in that they are specifically designed to withstand sustained attacks by one or more attackers using a wide variety of physical tools.

 

Additionally, Signals Defense GCP with SD2500 film helps mitigate the threats imposed by electronic eavesdropping while providing data protection. GCP containment grade glass can provide impenetrable security. At the extreme, the highest levels of GCP glass even stand up to chemical threats or thermal stress from -80°F to 6300°F.

Storm-Panels / Retro-fit: Single-laminate units made from glass and/or polycarbonates can be fabricated for a variety of situations.

 

When surface-applied window films are not a good fit for your windows, Signals Defense laminated glass panels with RF/IR attenuation is a good choice.

 

Windows can be custom-made to fit your window openings with a variety of framing options.

 

Secondary windows or storm panes provide benefits beyond RF/IR protection, including better thermal insulation and sound transmission (STC) performance
WHY CONSIDER LAMINATED GLASS AND POLYCARBONATES?
With today's risk of data leakage and corporate espionage, adding RF/IR protection is another important layer of security that can be added to ballistic and containment glass in new and retrofit construction. Custom insert solutions are designed for interior installation for existing facilities such as historic buildings where the inserts don't affect the appearance of the façade and can be easily installed and removed without damage to the building.
For decades police stations, military installations, government buildings, banks, tech companies and other sensitive commercial locations have used both ballistic and containment glass.
LEARN MORE ABOUT BUILDING AND PHYSICAL SECURITY
ARCHITECTURAL AND SPECIALTY Window FilmS
OFFICE LOCATION
3 Easter Court
Suite L
Owings Mills, MD. 21117