ARCHITECTURAL WINDOW FILMS
DECORATIVE / SAFETY / SOLAR
Architectural window films are retrofit products designed to enhance glass performance.  Architectural films are generally applied to the interior surface of a glass window of a commercial or residential building.
The Need for Customization:  Glass makes up a significant portion of the structural composition of many buildings. It serves a number of functions, from functioning as a partition to enhancing office security and privacy. But for many offices today, glass windows also present opportunities for customization. Custom decorative window films are self-adhesive, come in various shades and can fulfill a number of useful functions. Whether it's to serve as a decorative feature or promote a business's branding, glass features on the building's interior or exterior are customized to achieve the desired effect.
Decorative Window Film:
Privacy without compromising natural light
Enhance interior space with design and/or color
Fraction of the cost of etched glass
Removes excessive light and heat
Provides an extra insulation thus reducing energy use and cost
Helps prevent broken glass from shattering
Simple to change designs and/or remove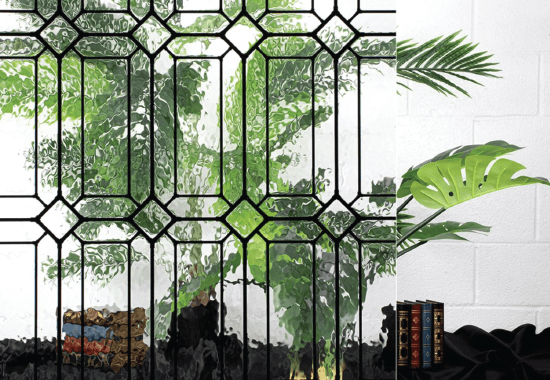 Signals Defense Safety films protect against Glass Fragmentation, Spall Control, and Blast Hazard
Safety window film plays a key part of physical security as a first line of defense from the outside threats by providing a strong barrier that contains the glass upon impact.  Safety film is widely used on windows and glass doors that are vulnerable to a natural disaster, blast,  vandalism, theft, or an intruder to protect people from physical harm and minimize costly damage associated with broken glass.
Safety film features pressure-sensitive adhesive which has a low visual distortion that provides exceptional optical clarity. Safety films are available in a wide variety of solar, aesthetic and RF/IR solutions to enhance your buildings needs and can be applied retrofit or to new construction. 
Signals Defense carries and installs a large selection of Safety films.  If you have questions about which film is best for your project, reach out to our team.
Windows are the soul of a building, and today's architectural designs have evolved to reflect this, using more and more glass. While this satisfies a true human desire for natural light, it also has a downside: less protection from solar heat, glare, and harmful UV rays. The Sun's light and heat can make your office or building uncomfortable and create unwanted fading. 
Solar films can provide for savings with your heating and air conditioning in addition to the assistance with glare reduction, fading, and protecting employees from the harmful effects of the sun's UV.  Some of the films available from Signals Defense can reduce inside temperature, earn LEED credits, improve Energy Star scores, and reduce energy consumption.

Our solar window films allow you to maintain the beautiful benefits of windows without making sacrifices. By filtering much of the solar spectrum, window film technology contributes to overall productivity, satisfaction and happiness. Plus, films are less expensive than window replacement and won't darken rooms or hide desirable views. Explore our full range of products to find the ideal solar film solution for your building.
Signals Defense carries and installs several versions of Solar films, there a several to choose from.  Call us to evaluate you office or building to see what is best for you.  Our sales consultants can help you choose from a large selection of visually pleasing Solar Control films.
OFFICE LOCATION
3 Easter Court
Suite L
Owings Mills, MD. 21117