REQUEST A WINDOW TREATMENT QUOTATION
Thank you for considering Signals Defense for your window treatment needs. In order to expedite our sales process and get a quote and products to you in a timely manner, please complete the form below and one of our sales team members will reach out to you within 24 hours.
FEATURED BLOG
SHOULD I USE ROLLER SHADES OR BLINDS FOR AN OFFICE
If you're considering window treatments for your office or commercial building, the options available actually go beyond merely a choice between shades or blinds. Within shades there are manual and motorized roller shades in standard sizes, and custom roller shades to fit any size or shape of window. Shades can also be printed with artwork or logos, as you prefer. So how to choose?
First, consider how much light control you need. Blinds use tiltable slats that come in standard sizes of one half inch, one inch, and two inch slates, and you can position them to control the amount of light allowed in at any time of day. You can get them installed horizontally, which is typical for standard windows, or vertically, more typical for large glass sliding doors or large floor-to-ceiling windows. There are a wide range of colors and materials from which to choose, including aluminum, wood, or vinyl, all of which can come in vast array of colors. But crucially, blinds for office windows will allow you to easily fine tune the amount of light you let in at any point in the day, although they will never achieve total blackout.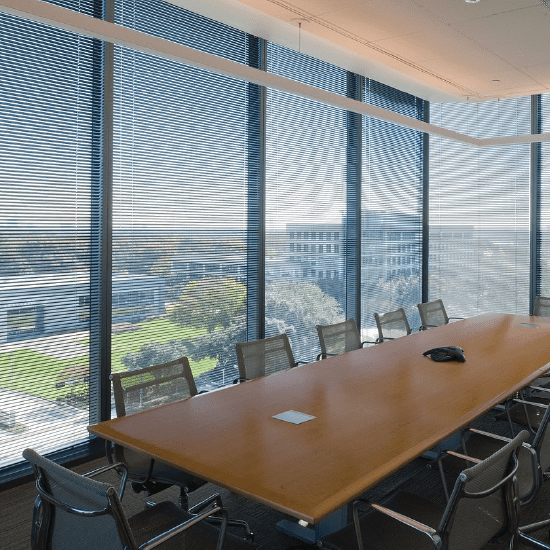 OFFICE LOCATION
3 Easter Court
Suite L
Owings Mills, MD. 21117