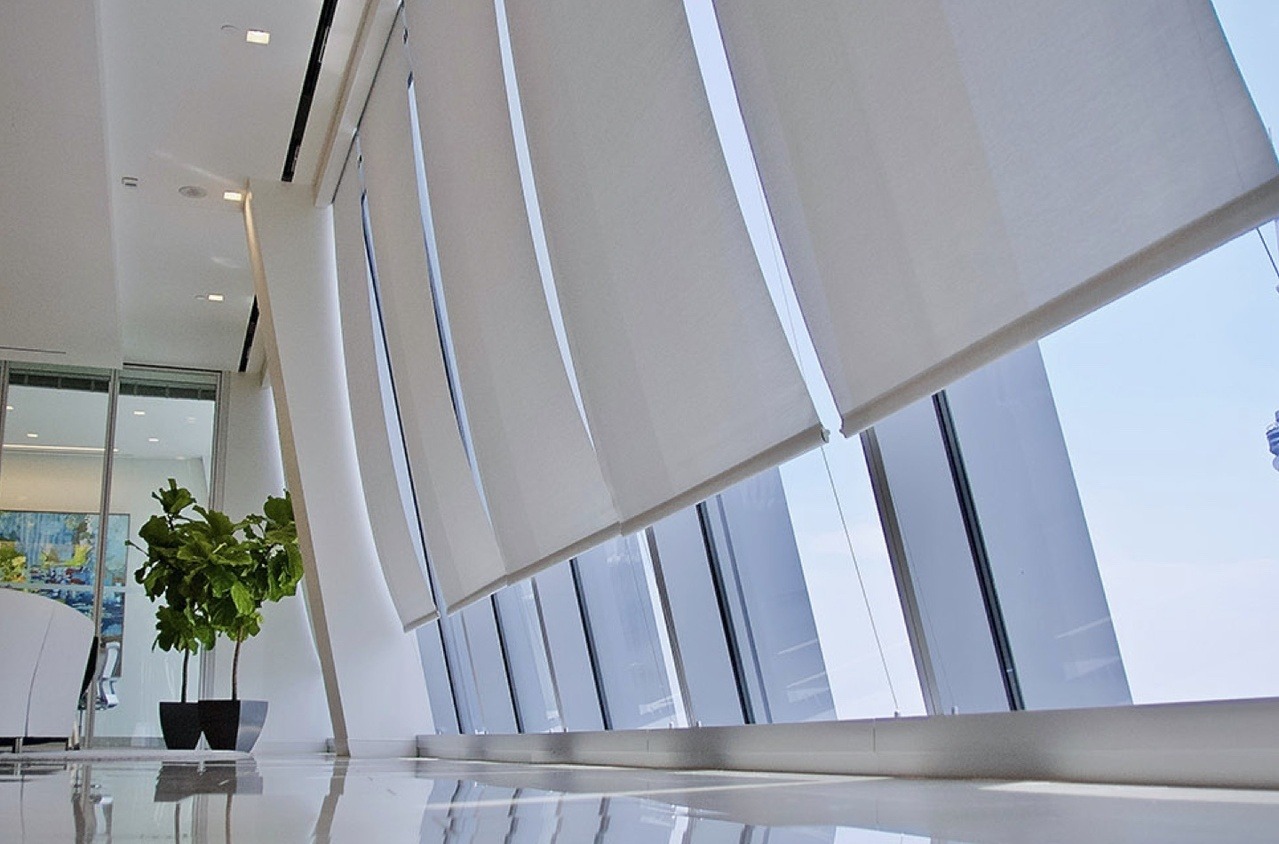 If you're considering window treatments for your office or commercial building, the options available actually go beyond merely a choice between shades or blinds. Within shades there are manual and motorized roller shades in standard sizes, and custom roller shades to fit any size or shape of window. Shades can also be printed with artwork or logos, as you prefer. So how to choose?
First, consider how much light control you need. Blinds use tiltable slats that come in standard sizes of one half inch, one inch, and two inch slates, and you can position them to control the amount of light allowed in at any time of day. You can get them installed horizontally, which is typical for standard windows, or vertically, more typical for large glass sliding doors or large floor-to-ceiling windows. There are a wide range of colors and materials from which to choose, including aluminum, wood, or vinyl, all of which can come in vast array of colors. But crucially, blinds for office windows will allow you to easily fine tune the amount of light you let in at any point in the day, although they will never achieve total blackout.Shades are more of a consideration if you need to block out all or virtually all light at any time. Shades can come in a wide variety of textures and patterns, they may be manually rolled or use motors, but they are the only choice if you need total privacy and to block out all light. In terms of fabric, shades come in cloth, vinyl, woven wood (such as bamboo), Roman or balloon shades (that fold when you pull the cord), honeycomb or cellular (with horizontal rows of air pockets, good for energy savings), or blackout shades that block all light and allow total privacy. Additionally, if you want to any sort of artwork or logos to show on the outside of your windows, shades are a great choice.
For whatever your window treatment needs, speak to the professionals at Signals Defense in Owings Mills, MD. The company offers a window treatments from Insolroll, Draper, Hunter Douglas, SWF Contract, and Levelor and are experts on all aspects of window technologies for privacy, energy savings, and security.
Signals Defense can help you think through the choices for your commercial office or building windows.