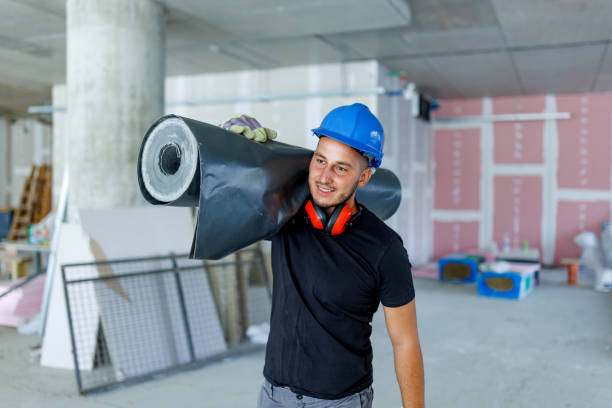 Ideal for SCIF (sensitive compartmented information facilities) areas and other rooms that require high RF shielding protection, Ultra NT Radiant Barrier rFoil is an aluminum foil-based radiant barrier able to effectively attenuate EM and RF signals from traveling through walls, ceilings and floors.
As an authorized dealer of rFoil, conductive tape and other shielding accessories, we're always happy to work with users and answer questions related to how to best install these products in their facility. Read on for answers to some of the most frequently asked questions we receive about rFoil and contact us today for more information:
FAQs on Ultra NT Radiant Barrier rFoil
What is used to install rFoil on drywall?
We always suggest consulting with an architect if at all possible, to verify the best means of installing rFoil on drywall. However, spray and brush-applied adhesives are a common installation method. Staples is another common installation method.
Can I pour a concrete slab on top of rFoil?
Yes, but there is a chance that some of the concrete makeup could react with the foil and impact its effectiveness. If you're able to ensure the makeup of the mix won't react with the aluminum metal in rFoil, it should be fine to pour a slab on top following its installation.
Will carpet tiles adhere to rFoil?
Yes, users should have no problem with self-adhering tiles on rFoil.
Can I run drywall screws through rFoil and not impede RF shielding performance?
Drywall screws shouldn't impact RF shielding performance. However, we do recommend that users only work with black phosphate drywall screws in these situations. Furthermore, any screws used to fasten a second layer of drywall should be fastened to the same studs.
What should I do when rFoil meets a window or door?
Again, we suggest consulting with your building's architect (if applicable) regarding how the foil should interface with window and door frames. Additionally, it's also worth noting that rFoil should only be grounded when it's specified by the proper security authorities.
What waste factor should I use when calculating how much rFoil I need?
This largely depends on the installation method. For example, overlap or Z-fold will use a minimum of 6 inches of rFoil on each side, which equates to about 25 percent waste.
How much tape is needed when installing rFoil?
Again, this depends on the specific project and installation. Generally speaking, about 300 linear feet of standard aluminum tape should be enough to install a single roll of rFoil (48 inches by 125 feet).
Contact Signals Defense for More Information
As a leading distributor of Ultra NT Radiant Barrier rFoil and rFoil tape, contact Signals Defense today for more information and to receive answers to any further questions you have about these products. You can also read more on our FAQ page. Contact us today for more information.