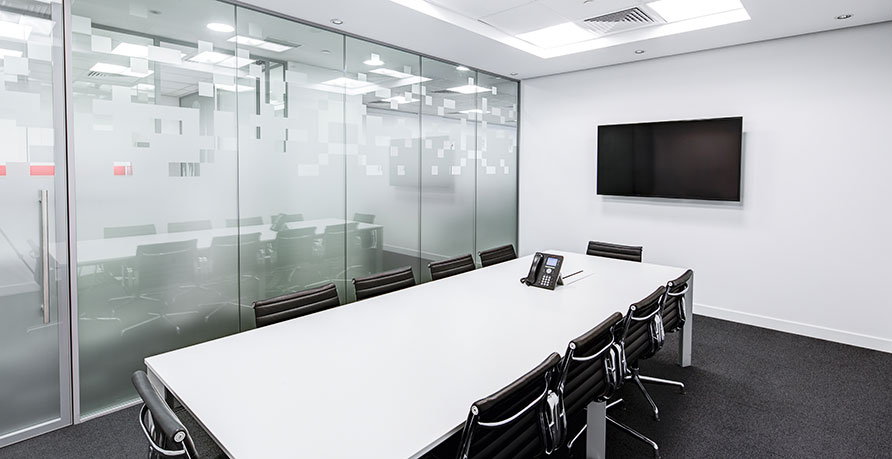 If you're designing a new office or need to retro-fit an old one, consider how to use glass in your new space. Window films can be used to block solar glare, to enhance aesthetics, and even for increased security, while window treatments can add that final touch. When deciding how to use glass in your office space, keep these four points in mind:
Openness vs. privacy: Are you looking to create an open plan, or do you need private spaces throughout? Using glass withdecorative window films can be a great way of creating a balance between privacy and openness, as they can create separation without building walls and hiding areas not meant for public view while allowing in natural light. Casper Cloaking Film can be used on glass walls to obscure the view of LCD screens, and window films can be used to create one-way mirrors if enhanced security is important. Speaking of security…
Security vs. aesthetics: Do you need government grade security, or are you trying to create an inviting environment forwelcoming clients? For most offices, there is a balance that must be struck between the intent of visual objectives and security, such as a beautiful reception area with glass-walled conference rooms where decorative films present an etchedlogo, but the non-client areas are kept discreetly from view. The office might also use a combination of RF attenuating window films, RF blocking radiant foil, and RF diffusing paints or fabrics to protect data from an ever-increasing array of cyber-criminals looking to access company data by any means necessary.
Form vs. function: Are you mainly looking to replace/upgrade the design features of your space, or do you need your glass to perform very specific functions? Some clients need ballistics glass or detention laminates, while the biggest threat others face might be sun damage and energy efficiency. Given that windows are a major cause of energy loss, many clients make their choice with the intent of energy objectives. Whatever your interior design needs, there is probably a window or glass product that can help.
Window treatments vs. plain glass: The customization available today in window treatments is truly astonishing and can be a game changer. The choices go well beyond merely choosing shades or blinds, and consultants can help you balance privacy concerns, exterior reflection, glare reduction, lighting, and even advertising needs. With the range of options available, you can literally dial in the exact amount of light you want at any time of day once you have an appropriate system in place.
Contact Signals Defense in Owing Mills, MD today for a consultation. The company has been a top provider to demanding clients in the U.S. intelligence and military community for almost two decades and now serves corporate and residential clients as well. Their professionals can help you choose the right combination of window and glass products that fits within your budget and creates the right environment to fit your specific needs.