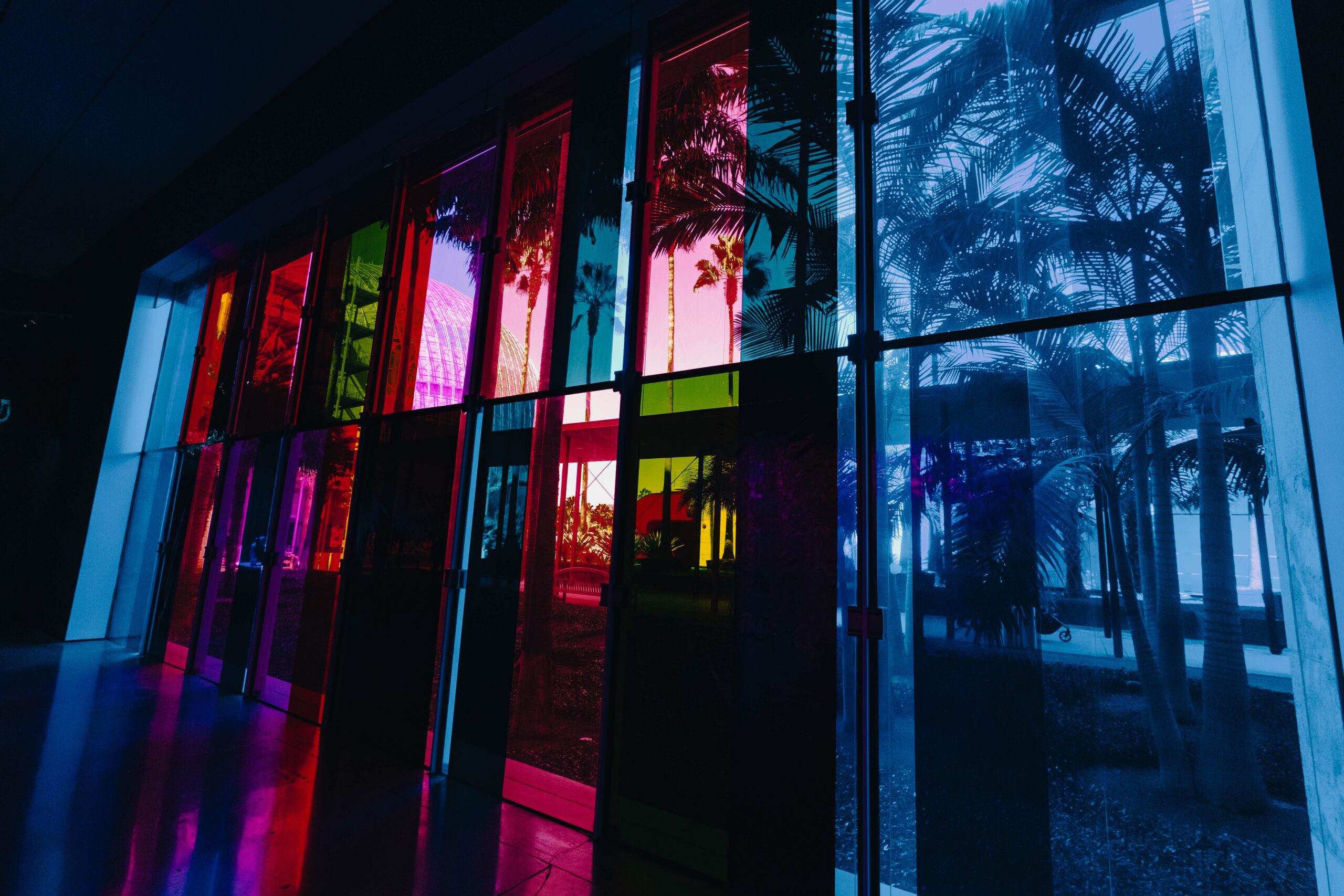 Installing modern decorative window film is an excellent way to elevate your interior design without taking up any floor or wall space. It is also one of the most cost-effective ways to improve the office atmosphere. Window films enhance indoor spaces and, when done tastefully, can eliminate the need for expensive window treatments or custom etched glass.  
The beauty of using modern decorative window film is that there are nearly unlimited designs and finishes to choose from. You can go for an entirely aesthetic approach or choose options that offer other practical uses, like UV protection and privacy. 
 Here are a few creative and useful ways to use decorative window films.
Complement or enhance your interior design with colored window film. 
Modern decorative window film comes in different colors, shapes, and designs that you can use to create a specific aesthetic. You can, for example, use colored window film to add a pop of color to a room that is predominantly white, gray, or some other muted color. Conversely, you can also create a calming, zen-like atmosphere using translucent decorative window film that diffuses bright sunlight. This results in a softer, dreamlike natural lighting that calms instead of stimulates your senses.
Another way to design a space using window films is to use them in a similar fashion as wallpaper, but on your glass. This can include custom-designed films printed with a company logo, colorful patterns, or drawings. These films can filter or reduce sunlight, which is something to consider if you plan to install them on exterior windows.  These films also work superbly on interior glass partitions. If you want to create a space that looks trendy and unique, you can turn glass partitions and windows into large pieces of artwork. 
There are dozens of off-the-shelf films and patterns from various manufacturers like Eastman, 3M, and Decorative Films/Solyx.  Solyx also produces stained glass films that can work in a variety of conditions and spaces. Films can be further customized according to your preferred colors and designs.
Create private spaces indoors using frosted film
Translucent decorative window film also offers an element of privacy. Although it doesn't completely block one's view of a room, it can inhibit people from seeing what's happening on the other side of the glass.  Designers may incorporate the use of clear glass partitions to make a room feel more spacious and bigger. But for areas where privacy is necessary, like in an office or conference room, frosted film for glass doors and partitions can offer just enough privacy without deviating from the designer's original intention. 
In addition, you can find privacy films with varying degrees of transparency. These gradient films come in an array of colors, patterns and light transmission wherein the pattern gradually transitions from a privacy opaque to a more transparent view. 
These gradient films are both aesthetic and functional and provide a gradual transition from the clear glass portion, to a more opaque section.  All while creating a secluded, semi-private area where you can work privately without feeling completely cut out from the rest of the floor. You can use frosted gradient films for office conference rooms, store fronts and even work or study areas at home.  
Enhance The Look of Your Property With Decorative Window Films 
These are just a few of the many ways you can use decorative window films. There are so many design and color options, and they are customizable to fit your project.  Should you ever need a fresh idea for transforming the look of your space or adding privacy you can take inspiration from decorative window films.
If you need help in choosing the best decorative film for your space, call us at (410) 902-0356 or click the button below and use the contact form.  Our team will be happy to assist you.