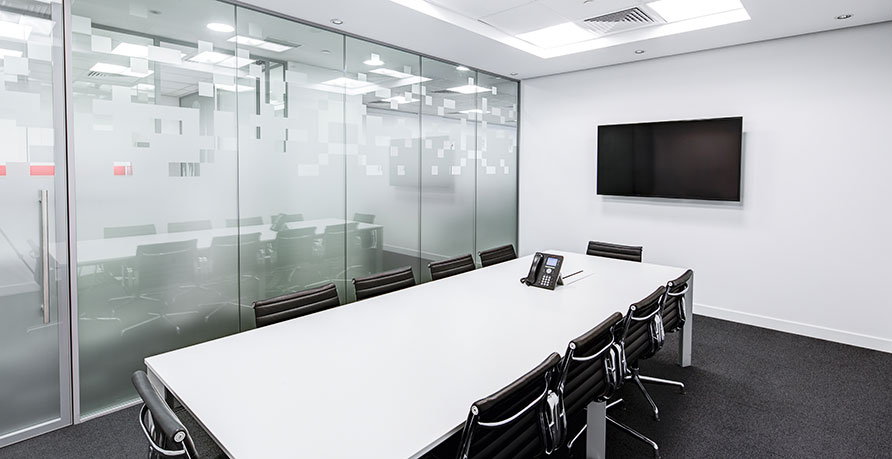 Looking to design a new office space or update an existing one? Decorative window films are a cost effective way to create inviting interiors, to allow separation within an open plan, to enhance privacy without sacrificing natural light, or to promote your brand in a stylish way. Today's window films are durable yet can be replaced or updated any time. They can also be customized with frost or printed designs to meet any number of interior design applications. The professionals at Signals Defense in Owing Mills, MD can help you navigate this complex landscape of choices.  Here are a few things to keep in mind when considering your options for the interior of your office space:
Etched glass vs decorative film: Designs that once required expensive glass etching are now achievable via smart looking, durable,
and highly customizable decorative window films that can be replaced with very little fuss or expense. Just take a look at the astonishing range of options available from 3M,

Llumar

, and

Solyx

, all of which are carried by Signals Defense.
Privacy vs openness: Given the open plan preferred in the typical modern office, privacy and security can often be sacrificed at the altar of corporate culture. Yet decorative window films are excellent and cost effective means of establishing a middle ground by creating separation without closing off spaces and concealing areas not meant for public viewing without actually building walls or blocking out light. Window films can be even used to create one way mirrors for enhanced security or to obscure the view of LCD screens inside the office with Casper Cloaking Film.
Natural vs artificial light: A 2002 study by a U.S. Department of Energy Laboratory found that "has proved to be beneficial for the health, productivity, and safety of building occupants." Decorative window films used with glass walls can help to maximize the availability of natural light in your office, as window films can be customized to allow more or less light through, as per your specific design preferences.
Custom printing vs classic designs: Window films are highly customizable and can be printed with company logos in frost, full color, or some combination thereof. Alternatively, films can come in classic designs such as stained glass, etched glass, or any number of other classic looks. Keep in mind that window films are easily applied by the pros at Signals Defense and can be inexpensively modified or updated as your business grows and your needs change.
Whatever your design, privacy, or security needs, the experts at Signals Defense can help you customize your space in more ways than you can imagine. The range of possibilities available using decorative window films is nearly unlimited and an on-site consultation can make all the difference.
See more options for decorative window solutions.
Contact Signals Defense today to arrange a visit from one of their professionals.